Italian High Heels sells only the finest Italian high heels footwear. Each model is manufactured by hand by Master Italian shoe makers. Raw materials are chosen with great care utilizing uppers and linings in the best leather and hides which are hand-sewn over refined spike heels.
This company sells exclusively via the Internet via their online shoe shop portal which means they can offer us high-quality merchandise at prices very much lower than those found in conventional stores. Sizes range from EUR32 to 46 and in a plethora of colour ranges.

The boot below is available in no less than 60 colour choices and promoted as a classic mistress thigh-high boot in quality calf leather with red nappa leather lining, covered zipper and 15cm (6inch) spiked heel. Surely a must purchase item at EUR275.55 plus VAT.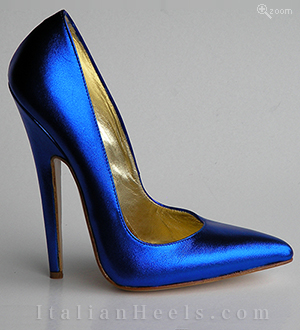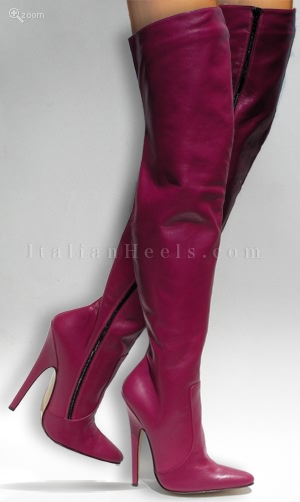 The Blue High Heels shoes featured and which i am wearing in one of my shoots are from the Danubia range, priced at Eur100.55 plus VAT are a very comfortable easy to walk on pair of 6 inch high heels. Made of opalized blue kidskin and real leather insole, lining and genuine leather sole. Available in Red, Green, Yellow, Fuxia, Pink, Orange, Lilac and of course Blue. As well as a 15cm (6inch) heel they like many of their other styles are also available in 120mm (4.5inch). Sole variations are also offered in Beige (my preference), red and black. Sizes in this model run from EU35 through to EU46. Surely a must purchase item for all Ladies demanding quality specialized footwear.