Sometime ago i created a wishlist via amazon but i wonder how many people have ever looked at it. Ok, so it's all about me and what i want but i'm sure there's something in there for you.
Since i have a bit of a High Heels fixation i think i'll just mention what i discovered with regards to footwear, but do note that we are talking quality Ultra High High Heels and what is available for sale in online shoe shops.
I found some classic boots from Fabulously Fetish with 6 inch heels and like all footwear from this manufacturer they are available in Leather, Patent and Suede in the usual black red and white plus Beige, Brown and Purple. Sizes range from UK3 to 12. Priced at a very reasonable GBP220.00
Skyscrapers from the UK is another online shoe shop who sell some amazingly good products at very reasonable prices. I should know as i've already bought some myself. Although i already have a pair of the Z7 knee high boots in Black, my next purchase will be a pair just like these in a Red patent. Priced at only GBP130.00
Italian Heels sells only the finest Italian high heels footwear. Each model is manufactured by hand by Master Italian shoe makers. Raw materials are chosen with great care utilizing uppers and linings in the best leather and hides which are hand-sewn over refined spike heels.
This company sells exclusively via the Internet on their online shoe shop portal which means they can offer us high-quality merchandise at prices very much lower than those found in conventional stores. Sizes range from EUR32 to 46 and in a plethora of colour ranges.

The boot below is available in no less than 60 colour choices and promoted as a classic mistress thigh-high boot in quality calf leather with red nappa leather lining, covered zipper and 15cm (6inch) spiked heel. Surely a must purchase item at EUR275.55 plus VAT.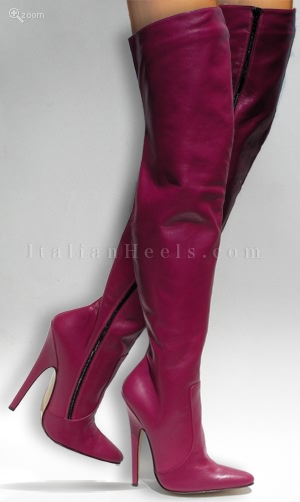 The banner below will take you to The Italian Heels shop.

The next item of footwear is from Fernando Berlin and entitled Model no.110 available in Sizes EUR36 to 47 and in Soft Black genuine Leather. Unfortunately no other colours are available yet. The heel, although it looks higher, it's only 12cm.
I must say that the style of these boots are very appealing as the leather looks flexible enough to adjust to the leg and to shape the leg into the form of the boot. Ladies, these are a must if you want the wrong attention. The zipper runs the entire length of the boot and looks easy to get in and out of. Priced at between EUR290 and EUR340 depending on whether you wish to buy off the peg or with a customization. I should point out that they closed their physical shoe shop in favour of concentratiing on on-line shoe sales. http://www.fernandoberlinboots.com
Not featured in my wishlist are these boots from Fuss-Schuhe.de the reason being that i already posses a pair. Priced at between EUR249.99 & EUR259.99 the heel height ranges from 14cm in a size 34 to a staggering 17.5cm in a 46. My pair are size 41 with a pleasurable 16cm heel. But i must point out that whilst they're great to look at and ever so comfortable to wear i don't get a great deal of satisfaction of walking in them. Something about the arch that isn't quite right.
There's a whole load more extreme heels out there and one thing i can guarantee is that when i find something nice to write about you'll find it here on my blog.
Right now i'm working on a review section of selected retailers and manufacturers of Fetish related products. If you have any comments you wish to make or offer feedback please do so via email to me at erika@ladyanamorphic.com